Stocks? Traders watch U.S.-Canada hockey showdown
February 21, 2014: 3:15 PM ET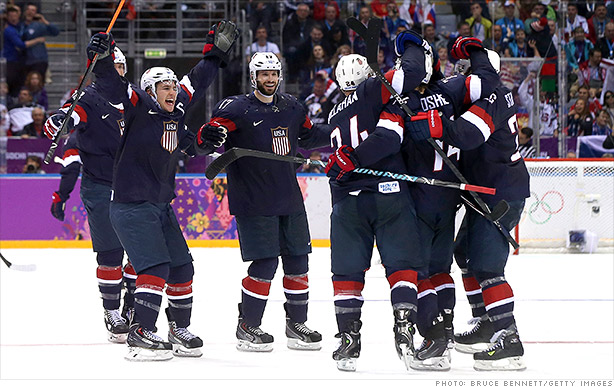 Stocks may be back near all-time highs, but traders were barely paying attention to the market Friday afternoon.
They took a break and turned their attention to T.J. Oshie and the rest of the U.S. men's Olympic hockey team, as they faced off against Canada in the semi-finals. Though the game resulted in a 1-0 victory for the Canadians, Americans were hopeful that Team U.S.A. would defeat its biggest rival.
The teams have gone head to head 18 times during the Winter Olympics, more than any other two nations. And for the U.S. team, the history has been painful. During the last Winter Olympics in Vancouver, Sidney Crosby's overtime goal gave the Canadians a gold medal win over their North American neighbors. (Neighbours?)
The last time the Americans won the gold was in 1980, when the U.S. defeated the Soviet Union in the "Miracle on Ice" and then went on to win their final match against Finland.
While the Americans and Canadians are teammates in the NHL, it's all about national pride during the Olympics. And Friday's semi-final match was even more crucial after the U.S. women's team's heartbreaking loss to Canada on Thursday for the Olympic title. 
With so much pride on the line, Wall Street traders -- who are usually talking markets all day on Twitter -- were instead chatting about the game, which began at noon on the East Coast. 
Sal Arnuk, partner at Themis Trading, admitted he was watching the game and that he was also keeping an eye on tweets from Mark Cuban.
Split Screen - Hockey USA-Canada ; @Mcuban Tweets—
Sal Arnuk (@ThemisSal) February 21, 2014
Leigh Drogen, founder of Estimize, was also focused on the match, tweeting his observations every few minutes.
Americans look nervous, holding sticks too tight, safe is death against a team this talented, gotta take more chances in Canadian end—
Leigh Drogen (@LDrogen) February 21, 2014
Americans are not gonna win this game playing defense the whole time, too little puck possession on this big ice—
Leigh Drogen (@LDrogen) February 21, 2014
Michael Antonelli, an equity sales trader at Robert W. Baird & Co., joked that his day was over and was also commenting on the game.
olympic hockey is incredible. Why can't the NHL capture this kind of excitement? (outside of playoffs I guess)—
Michael Antonelli (@BullandBaird) February 21, 2014
DailyFX currency analyst John Kicklighter quipped that the hockey game was the only reason for interest in the exchange rate between the U.S. and Canadian dollars.
This Hockey game is going to be the FX market's peak interest in USDCAD for a long time—
John Kicklighter (@JohnKicklighter) February 21, 2014
Canada scored in the second period and the U.S. failed to counter. Canada fan and hockey buff Keith McCullough, CEO of Hedgeye Risk Management, had a simple tweet about moving on to the gold medal match against Sweden for the gold medal on Sunday (McCullough had tried to buy the Phoenix -- and soon to be Arizona -- Coyotes hockey team.)
Next—
Keith McCullough (@KeithMcCullough) February 21, 2014