JPMorgan in Twitter s#itstorm
November 14, 2013: 10:37 AM ET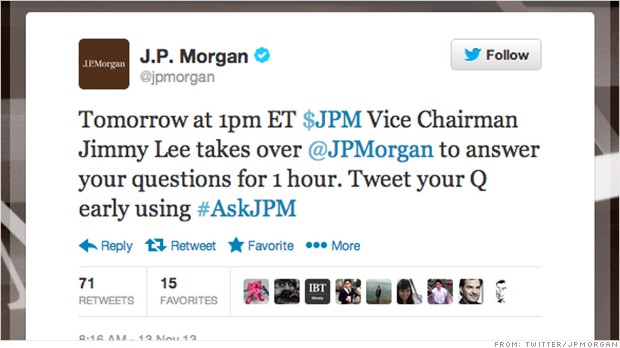 JPMorgan Chase (JPM) went viral on Twitter Wednesday ... and not in a good way.
The bank, which has already had its share of bad press recently, announced plans to have one of its senior executives, Jimmy Lee, "take over" the @JPMorgan handle Thursday afternoon to answer questions from the social media masses.
Tomorrow at 1pm ET $JPM Vice Chairman Jimmy Lee takes over @JPMorgan to answer your questions for 1 hour. Tweet your Q early using #AskJPM—
J.P. Morgan (@jpmorgan) November 13, 2013
Just a friendly chat. What could possibly go wrong?
It turns out many people on Twitter still have hard feelings about the whole financial crisis and Great Recession thing, and they wanted to #AskJPM about it.
After about seven hours, it became clear that JPMorgan had lost control and the bank pulled the plug on the social media event.
Tomorrow's Q&A is cancelled. Bad Idea. Back to the drawing board.—
J.P. Morgan (@jpmorgan) November 14, 2013
So how bad was it? Well, CEO Jamie Dimon was accused of cannibalism.
When Jamie Dimon eats babies are they served rare? I understand anything above medium-rare is considered gauche. #AskJPM—
Eric (@Talking_Monkeys) November 13, 2013
If you think that's bad, Dimon was also compared to the character from Mel Brook's 1987 classic "Spaceballs," who uttered the immortal words: "She's gone from suck to blow!"
Didn't you think it would be a problem when you hired the Winnebago pilot from Spaceballs to be your CEO? #AskJPM—
Jeff Mazur (@jmaz) November 13, 2013
Some of the best zingers came from Amy Hunter, a self-described political strategist.
Did you have a specific number of people's lives you needed to ruin before you considered your business model a success? #AskJPM—
Amy Hunter (@amy10506) November 13, 2013
Do you need to be experienced to get a job as a face ripper? #AskJPM—
Amy Hunter (@amy10506) November 13, 2013
Is there an income ceiling beyond which it's no longer fun to screw somebody? #AskJPM—
Amy Hunter (@amy10506) November 13, 2013
Then things got really weird.
What's the best way to get blood stains out of a clown suit? #AskJPM—
Eddy Elfenbein (@EddyElfenbein) November 13, 2013
Do you like puppies? If you had a puppy, what would you name him? #AskJPM—
Matt Levine (@matt_levine) November 13, 2013
Wonder what the CEO of Goldman Sachs (GS) thinks about this?
Lloyd Blankfein and the entire executive suite are hunched over a first year analyst's twitter feed laughing their asses off over #AskJPM.—
Epicurean Dealmaker (@EpicureanDeal) November 13, 2013
What about the person in charge of JPMorgan's social media strategy?
If you feel like a failure, imagine being the person who came up with #AskJPM—
Rachel Edelman (@rachelsedelman) November 13, 2013
There were a few questions about the many lawsuits against JPMorgan ...
I have Mortgage Fraud, Market Manipulation, Credit Card Abuse, Libor Rigging and Predatory Lending

AM I DIVERSIFIED? #AskJPM—
Downtown Josh Brown (@ReformedBroker) November 13, 2013
... some speculation about the bank's alleged early access to market moving reports ...
How early do you guys get FED statements? #AskJPM—
Stalingrad Poorski™ (@Stalingrad_Poor) November 13, 2013
... and the obligatory taking candy from a baby joke.
Will the firm explore new markets, like selling candy-backed securities to babies w/o disclosing the lack of chocolate in the bonds? #AskJPM—
David Dayen (@ddayen) November 13, 2013
Maybe JPMorgan can try its next social media experiment on Snapchat? We hear it's popular because messages get erased in a few minutes.