Ackman and Icahn duke it out over Herbalife
January 25, 2013: 3:30 PM ET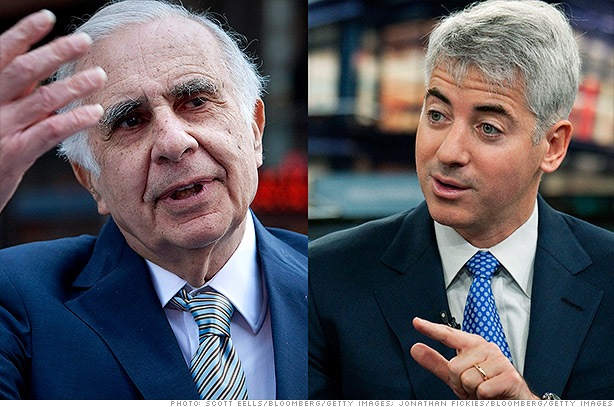 Hedge fund titans Bill Ackman and Carl Icahn squared off over Herbalife (HLF) Friday afternoon. And it was like a scene from a kindergarten playground.
For 30 minutes, the two lobbed insults at each other on CNBC as Ackman's bet on Herbalife's stock falling to zero drew the ire (and a litany of insults) from Icahn.
After listening to the confrontation, the public now knows a few things about these two.
For one, Carl Icahn likes to curse (though the network managed to bleep him out), and he thinks Ackman is a "liar," a "major loser," and a "crybaby in a schoolyard." In case you didn't know it, Icahn made it crystal clear that the two are "not friends."
What we still don't know: Has Icahn actually purchased shares of Herbalife as press reports have said? He wouldn't say.
Ackman had his share of insults for Icahn, calling him a "bully" who "takes advantage of people" and "not an honest guy." But he kept it a clean fight (translation: no cursing).
The Icahn-Ackman battle has quickly overshadowed the other duel involving Ackman and Third Point's Dan Loeb. Just two weeks ago, Loeb revealed a new 8% stake in Herbalife and praised the company's management.
Icahn did say that someone could make a tender offer for Herbalife, which would be the "mother of all short squeezes" for Ackman and his $1 billion bet against the company. Ackman taunted Icahn to go ahead and do it.
The battle lit up the Twittersphere:
I think it would be quite funny if Carl Icahn tries to bust out Bill Ackman, by making a tender offer for $HLF Carl does have the money..—
Christopher (@CDMCapital) January 25, 2013
Ultimate Hedge Fund Deathmatch: Icahn And Ackman As The Real Billionaire Husbands Of CNBC Going Wild zerohedge.com/news/2013-01-2…—
(@zerohedge) January 25, 2013
I hope that the Icahn vs. Ackman showdown is all a stunt for Herbalife. Reminds me of 50 Cent vs. Kanye. #Sales—
@boylerob (@boylerob) January 25, 2013
Ackman and Icahn didn't try to sing or rap on CNBC.
Bill Ackman is defending short selling on Fast Money Half now. Here is what I wrote on TheStreet last October bit.ly/UqmsQR $SPY—
Douglas Kass (@DougKass) January 25, 2013
Carl Icahn is like a pissed off Thorton Melon. "And another thing Vonnegut!" $HLF youtube.com/watch?v=tQnAhS…—
Michael Comeau (@MichaelComeau) January 25, 2013
If I was Icahn, I am on the phone to Warren Buffett talking $HLF buyout. They can spin it off to private equity after they squeeze Ackman!—
roberto pedone (@zerosum24) January 25, 2013
Here's the whole video of Ackman vs Icahn, share it with a loved one who has no TV at work. stks.co/q0qp—
Downtown Josh Brown (@ReformedBroker) January 25, 2013
By the end of the trading day Friday, Herbalife was the winner of the duel. Its stock closed up nearly 1%. After falling more than 35% when Ackman called it a pyramid scheme, Herbalife's stock is now back above pre-Ackman levels.