Pandora plunges on talk of Apple launching rival service
October 25, 2012: 4:06 PM ET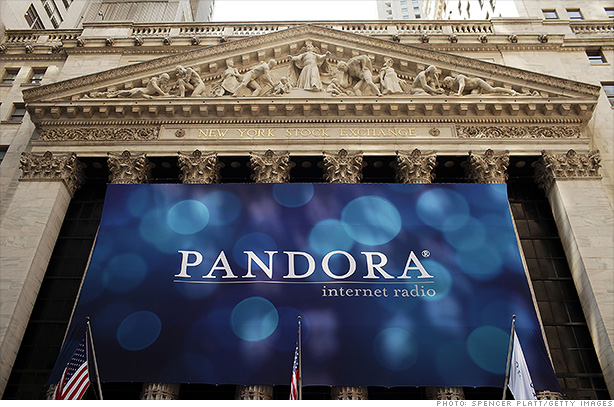 Shares of Pandora plunged nearly 18% Thursday, following a news report that said Apple was planning to launch a rival Internet radio service next year.
Thursday afternoon, Bloomberg reported that talks between Apple and major music labels had intensified recently. Citing people familiar with the situation, Bloomberg said a deal to launch an ad-supported Internet radio service could be reached by mid-November, with a potential launch date sometime during the first quarter of 2013.
Is there a funeral dirge music station on Pandora? Bet it plays Jack Johnson. $P getting slaughtered on more $AAPL radio chatter.—
Paul R. La Monica (@LaMonicaBuzz) October 25, 2012
The news triggered a single-stock circuit breaker, which is intended to limit violent swings in stock prices. Within five minutes, Pandora's stock resumed trading only to trigger a second circuit breaker just minutes later. The stock started trading again at 3:40 pm ET.
Shares of Pandora (P), which were barely changed for much of the day, ended down 11.7%.
Related: iPad mini launched at Apple event
Earlier this week, Pandora's stock got a boost after Apple executives made no mention of a competing service when they announced the iPad mini and a new lineup of Macintosh computers. Pandora's stock rose 8% that day.
After the closing bell, Apple (AAPL) posted mixed fourth-quarter earnings. The company's forecast for next quarter, however, was a blockbuster. Apple said it expects sales of around $52 billion, up 12% from last year's holiday quarter.